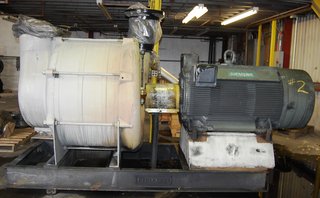 Product Notes
Roots Dresser / Siemens

Blower and Motor Skid

Blower
Type MVI-34-13
Inlet Volume 9000 ACFM
Inlet Pressure 14.5 PSIA
Inlet Temperature 100 deg. F
Specific Gravity Air
Discharge Pressure 24.5 PSIA
Speed 3560 RPM

Motor
HP 500
RPM 3580
Type CGZ
Frame 588S
Phase 3
Volts 2300
Amps 109

Unit Was Operational When Removed From Service
We have 2 more available.
BLW6001000440
Add this item to your quote cart to get a prompt estimate and additional information.
| | |
| --- | --- |
| Category | Blowers and Vacuum Pumps |
| Manufacturer | Roots Dresser / Siemens |
| Condition | Used |
| Type | MVI-34-13 |
| Inlet PSIA | 14.5 |
| Discharge PSIA | 24.5 |
| Inlet Volume | 9000 ACFM |
| Inlet Temp. | 100 deg. F |
| Inlet (in.) | 20" |
| Outlet (in.) | 18" |
| Spec. Gravity | Air |
| RPM | 3560 |
| Drive Type | Siemens Electric Motor |
| HP | 500 |
| RPM | 3580 |
| Frame | 588S |
| Type | CGZ |
| Volts | 2300 |
| Phase | 3 |