Pumps:
NEW Bijur Delimon Lubrication Pump Type: FZ-A, FZA09A30AC01X01, 215:1, Flowserve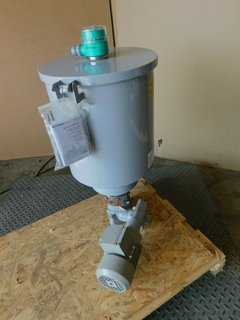 Product Notes
new unused Flowserve / Bijur Delimon Lubrication Pump.
FZA09A30Ac01X01.
Type: FZ-A.
Feed Volume: 0.1 ccm/U.
Ratio: 215:1.
Siemens Electric Motor.
60 Hz,
460 Volts, .
77 PF,
1650 RPM.
.21 kW = 0.281615 HP.

We also have a smaller one listed.

PUBR111002027
Add this item to your quote cart to get a prompt estimate and additional information.
| | |
| --- | --- |
| Category | Pumps |
| Manufacturer | Bijur Delimon |
| Condition | New |
| Model | FZA09A30Ac01X01. |