Compressors:
NEUMAN & ESSER Hydrogen Reciprocating Compressors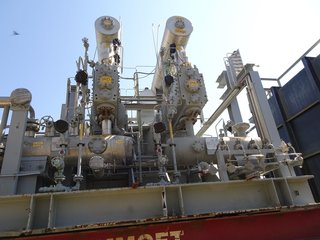 Product Notes
(2) Used 1200 HP Hydrogen Reciprocating Compressors built by NEA. Model 3+1SVL130. Rated 2793 SCFM @ 1937 PSIA. (4) Cylinders consisting of (3) Make-up H2 and (1) Recycle H2 cylinder. Recycle cylinder rated at 9653/13040 SCFM @ 2020 PSIA. Stage 1=8.26" Bore@609 PSIG; Stage 2=5.71" bore@1247 PSIG; Stage 3=4.53" bore@2349.6 PSIG; Recycle Stage =5.91" bore@2465.6 PSIG. S/N: 109089A&B. All cylinders have 6.69" Stroke. Unit includes Lube Oil Skids, KO Vessels, massive amount of paper work - manuals, drawings, etc. Unit ran for less than 4 months.
COW7441001887
Add this item to your quote cart to get a prompt estimate and additional information.
| | |
| --- | --- |
| Category | Compressors |
| Manufacturer | NUEMAN & ESSER, USA |
| Condition | Used |
| Model | 3+1SVL130 |
| CFM | 2793 |
| PSI | 1937 |
| HP | 1200 |
| RPM | 710 |